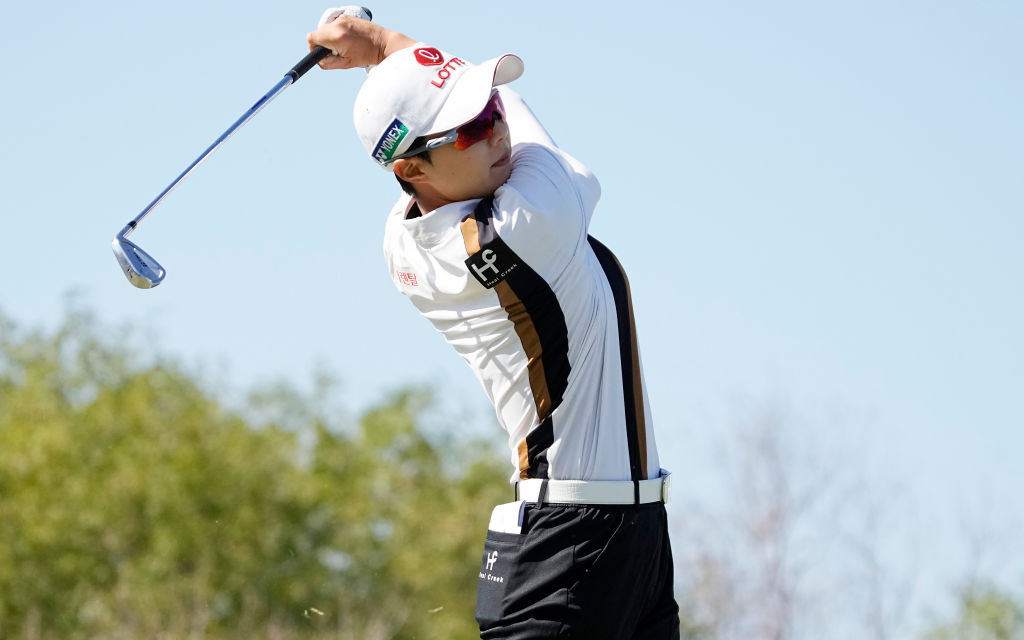 65 is Alive for Kim's First Round Lead
by Michael Abramowitz
THE COLONY – Sparked by a scintillating four birdies in a row on Nos. 13-16, Hyo Joo Kim of the Republic of Korea vaulted to the top of the leaderboard with a 7-under par 65 and a two-shot lead after the first round of The 2023 Ascendant LPGA benefiting Volunteers of America at Old American Club.
Kim bolted out with a 31 on the front nine. Following a bogey on No. 11, she caught fire and moved into the lead, with four consecutive birdies on Nos. 13, 14, 15 and 16, respectively, from 10-feet, 6-feet, and two from 3-feet each.
The kind of quadruple you want to see on your scorecard.
"It's been a while since I had four birdies in a row. Long time," said Kim with a laugh.
Kim, the No. 6 player in the world, was just two shots from the tournament record. After her impressive opening stanza, she exchanged hugs and snapped photos with several fans.
"It's good that I'm on top of the leaderboard often, but it's disappointing [if] I'm not at the top at the end of the week," added Kim. "I really want to stay at the top of the leaderboard after this week's done."
A trio of 5-under-par 66's has Azahara Munoz of Spain, Yu Sang-Hou of Korea and Sofia Garcia of Paraguay in a three-way tie for second.
Sang-Hou had a clean scorecard with five birdies and 13 pars, beginning with a sizzling 31 on the front nine. Munoz recorded seven birdies against two bogeys for her 66. Garcia, who played collegiately at Texas Tech, had no blemishes on her scorecard as well, recording five birdies on a beautiful October day in the Dallas-Ft. Worth Metroplex.
"I went to school in Texas. I know the weather," said Garcia. "Today was definitely on the nicer side of Texas, but I think me and my caddie were able to be where we wanted to be, and when we missed, we were in the right spots."
Marina Alex of Wayne, N.J. and Australian Sarah Kemp are T5, after rounds of 4-under 67.
Old American Golf Club member Lindsay Weaver-Wright of nearby Prosper, Texas, is tied for seventh with Minami Katsu and Jenny Shin at 3-under par 68.
A host of 14 players, including Yealimi Noh of Concord, Calif., and Australia's Hannah Green stand tied in 10th place at 2-under par 67.
Defending Champion Charley Hull is T51 after a 1-over-par 72. Lexi Thompson, who is set to become the seventh woman ever to play in a PGA Tour event next week, shot an even par 71 and is T32.
Under partly sunny skies and warm temperatures, 129 players are vying for a $1.8 million purse on the Par 71 course playing at 6,517 yards. The 2nd Round commences on Friday at 7:25 a.m. CT, with the top 65 players and ties making the cut.
Back to News