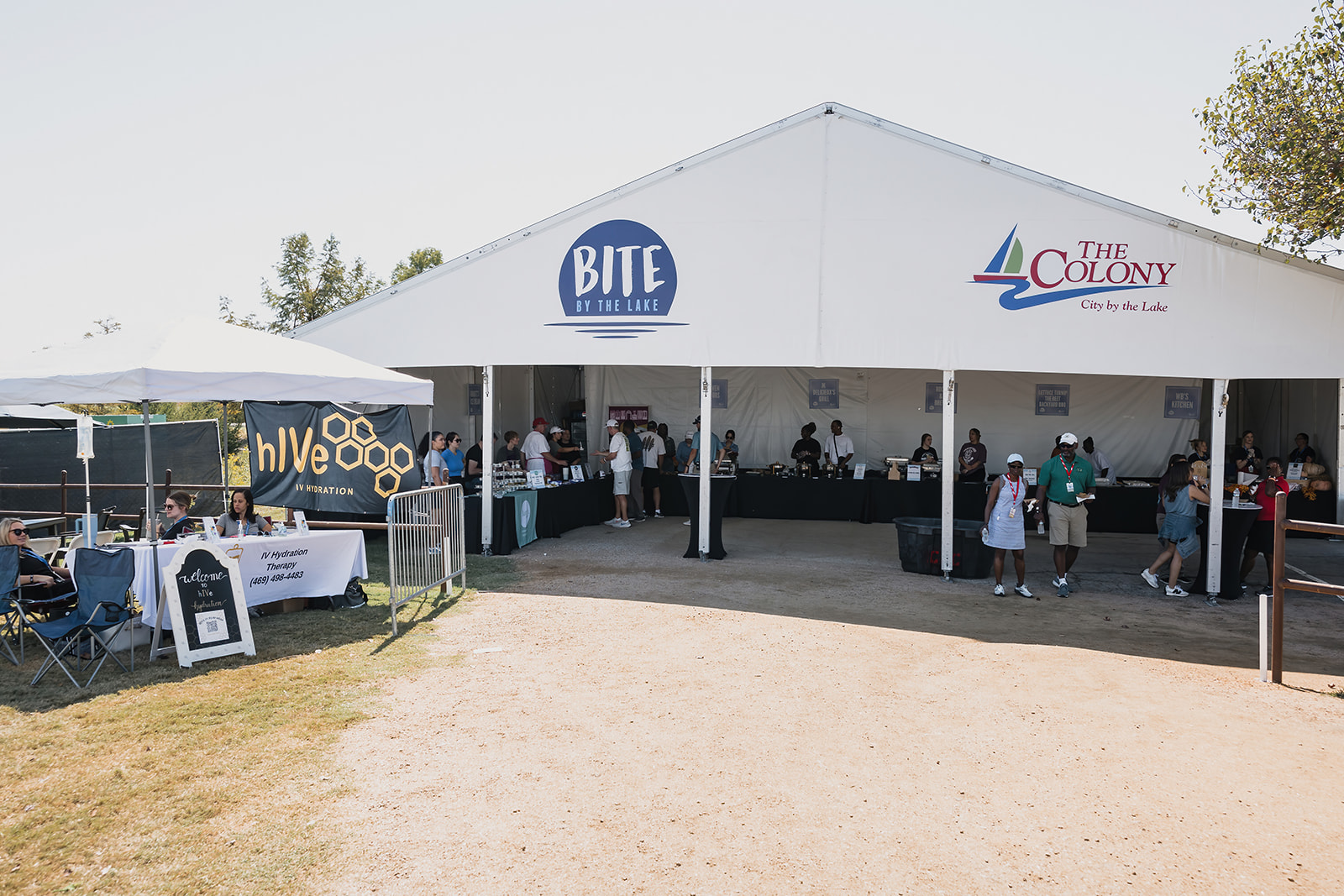 BITE by the Lake is Tasty Fun for Foodies and Golfers Alike
By Michael Abramowitz
THE COLONY – If you like food, then we've got a very delicious scoop for you!
The Ascendant LPGA Benefiting Volunteers of America offers the new "BITE by the Lake" for fans to taste the best foodie fare from seven local restaurants.
The food is so good, you might just miss a group or two tasting incredible varieties of ribs, bacon, buffalo wings, banana pudding ice cream, and much, much more.
And can you say, "Yum?"
For Seven Doors Kitchen Executive Chef Jacob Quintana, it's a chance to get future customers to learn about his business, which opened three years ago at Grandscape. They can enjoy the meals they have in store this weekend, such as crispy ribs with ginger soy and crispy chicharron, as well as his signature "Man Candy Bacon." It's a candied spice on bacon that's slowly baked to perfection.
He plans to also trot out Korean Beef Tacos and a 70-30 Burger, featuring sweet pepper jam with crispy onions.
"We have a pretty good lineup this weekend," said Qunitana as he delighted new customers. "We're a family-owned restaurant, and we love to deal with community events and get our name out there…We want everyone to experience it if they don't know about it."
Voila!
"It's a beautiful event," added local resident Wren Ovard of Frisco. "There's great food. And you can meet new restaurants that you don't already know."
You might even forget for a moment or two that you're actually here to watch a fantastic golf tournament.
"It's a great idea and an opportunity to not just see the tournament, but for people who might not be true golfers, it's an introduction to both new restaurants and the game," said Teri Sandage, a BITE by the Lake attendee from Bloomington, Ill.
It's a golden opportunity for restaurants to shine and for golf fans to broaden their horizons.
"We try to be involved in the community," said Rock & Brews Partner Dave Stevens. "It's important to be out in the community and have a presence…It's a part of our marketing. You will never see us in a print ad or on the radio but you will see us in the community getting people to know about our restaurant."
For Jugo Co-Owner Bryan Batson in Grandscape, he sees it as a chance to educate the public about his offerings, especially acai. "It's big on the West Coast and Hawaii. It's a healthy treat. In Brazil, they believe it gives you strength."
It's all just like a birdie for the taste buds.
Back to News