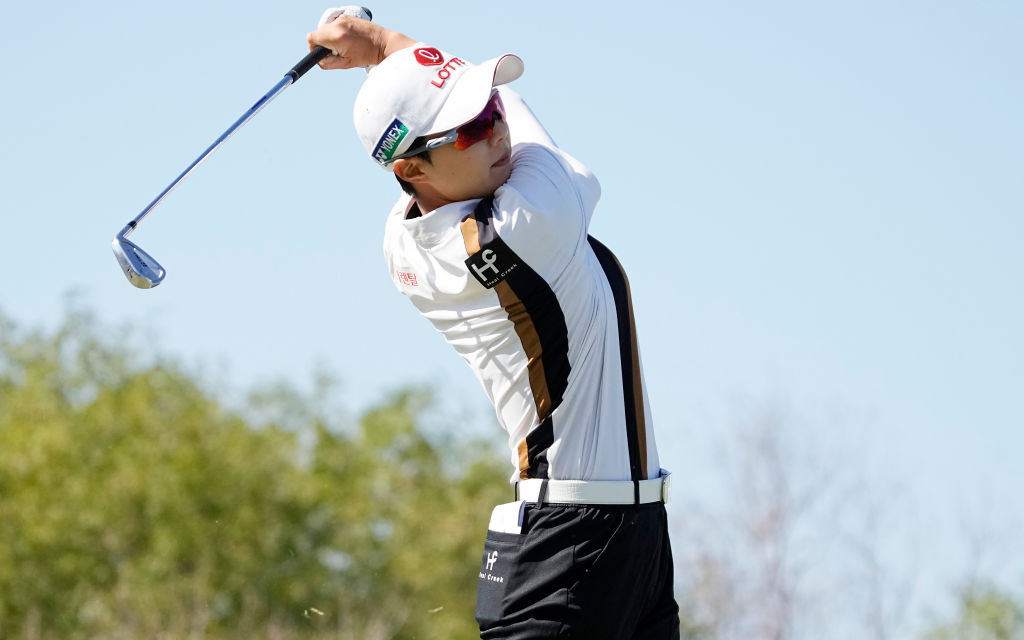 Hyo Joo Kim Extends Lead During Windy Day in Dallas
THE COLONY – Strong winds that began late in the day on Friday carried on through Saturday's third round at the Ascendant LPGA benefiting Volunteers of America, giving the 73 players who made the cut a real challenge on Moving Day. The scoring average for round three at Old American Golf Club was 73.505, nearly two strokes higher than Friday's average and more than two and a half strokes over par. Only 19 players managed to shoot an even-par score or better on Saturday. One of those players was first-, second- and now third-round leader Hyo Joo Kim, who shot a 1-under 70 on Saturday and holds a five-stroke lead heading into the final round.
"Today was a lot chillier than the last two days and definitely windier too, so maybe because of that I made a few mistakes early on. But I saw the leaderboard and it seemed like everyone else was feeling the same difficulty as me," Kim said. "Carding two bogeys wasn't a good start for my momentum but I tried to not to look at the leaderboard much. I focused on creating birdie opportunities and making sure I converted them."
Kim's sub-par round was not easily won. The Korean golfer was +2 through six holes after bogeys on the par-4 No. 4 and par-5 No. 6. She made up the deficit with birdies on 8 and a chip-in on 13, but another bogey on 14 put her back over par. Determined to finish her round in the red, Kim drove the green on 15 for a two-putt birdie and sank a 25-foot putt on 16 to move to -1 on the day. Two solid pars on 17 and 18, including a par-save on the last, gave her a comfortable lead entering Championship Sunday and a chance to earn the first wire-to-wire victory of her career.
"Oh, you're right. I didn't even think of that," said Kim when asked what a wire-to-wire victory would mean to her. "I'm sure as I'm playing tomorrow, the thought of winning will pop up in my head. But I just want to do my best to play the way that I'm satisfied with and the way that I want to."
Eleven-time LPGA champion Lexi Thompson moved from T3 to T2 with an even par round. After five holes Thompson was +3, but the Tour veteran clawed her way back with some impressive birdies. Both the highlight and lowlight of her round came on the par-5 17th, where her second shot when far left of the green into a rough patch of dirt and dead grass. Chipping for eagle, Thompson hit the shot within 15 feet of the hole and sank the putt for birdie.
"I would say probably my best shot was after my not-so-great shot on 17. Hit a pretty good 30-yard flop shot pitch up to about 12 feet and ended up making birdie," Thompson explained. "Yeah, there were a few (good shots). Overall just happy with how I committed to my shots out there. There was a few not-so-great shots, but it's golf. I'll focus on the good ones and take that into tomorrow."
The 28-year-old, who will be teeing-it-up on the PGA Tour next week, sits at -6 overall and in a tie with Australian Sarah Kemp, who is seeking her first win in her 260th career start on Tour. Kemp shot a 2-under 69 to move from T9 to T2 on Saturday. Swedish golfer Frida Kinhult shot one of the low-rounds of the day, a 3-under 68, to take the solo fourth spot on the leaderboard. Three players sit in a tie for fifth at -4 and eight more are T8 and -3 heading into the last day in Dallas.
Back to News