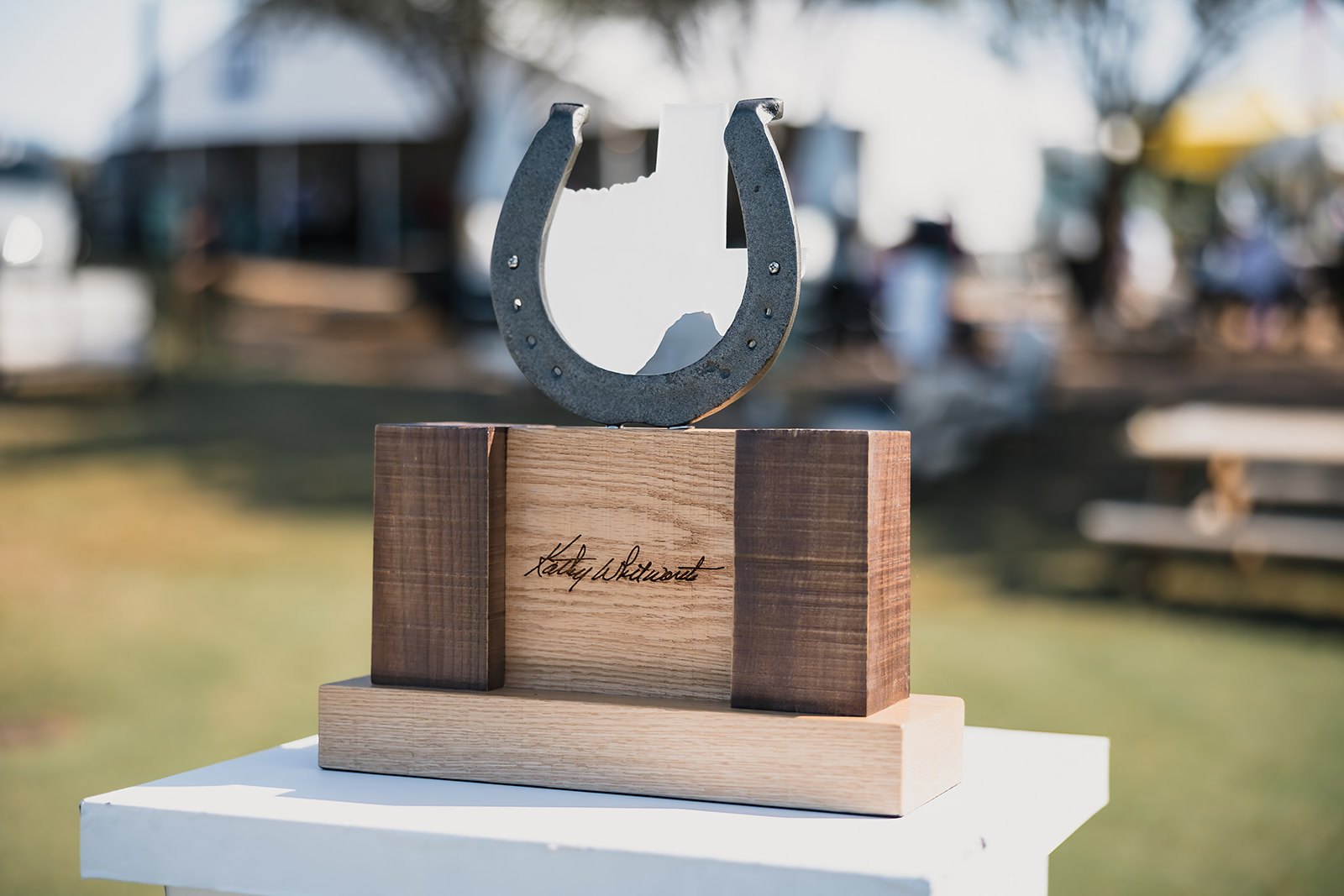 Kathy Whitworth's Presence is Everywhere at The Ascendant LPGA benefiting Volunteers of America
By Michael Abramowitz
THE COLONY - Kathy Whitworth's impact on the game of golf carries on not just in the number of wins she had in her career – 88 on the LPGA Tour – more than anyone on the LPGA or PGA Tours – but also her tremendous influence on today's players.
In December 2022, Whitworth, a World Golf Hall of Fame Member, passed away at the age of 83. Nearly a year later, her presence was certainly still being felt at The 2023 Ascendant LPGA benefiting Volunteers of America at The Old American Club.
"She was a real pioneer, and we're obviously super grateful to have her involved in the LPGA," said Sarah Kemp. "Gosh, we wouldn't be where we are without her."

The newly updated Kathy Whitworth Trophy now features Whitworth's signature, along with a horseshoe (pointing up for good luck) against a glass frame of the state of Texas. Whitworth first designed the trophy on a napkin in 2014.

"I played in her event as a junior and got to know her pretty well over the years," said Lexi Thompson, who will become the seventh woman to play in a PGA TOUR event next week at the Shriners Children's Open. "She was just such a special lady, not only for the game, she was a huge inspiration, what she's done for it, and the impact that she's made on the game and grew it."
As a tribute to those 88 wins, the pin flag on No. 18 was set 8 feet front the front edge and 8 feet off the right side of the green. Somewhere, Whitworth must be smiling.
"She was always such a nice lady," said Thompson. "Every time I saw her, she had a smile on her face, and something nice and positive to say. She's made an impact on the game. That's what we're all striving to do."
Whitworth covered significant ground to help grow the game of golf for everyone to enjoy. In 1999, the Kathy Whitworth Invitational was started in Texas to promote and support junior girls' golf and provide the chance to play golf at the championship level. For several years, The Ascendant LPGA has offered a sponsor's exemption to the winner of the Invitational.
"She got her very first golf club with Green Stamps," recalled NBC Sports broadcaster Judy Rankin during the live telecast. Ironically, in 1973, Whitworth won the S&H Green Stamp Classic. The year before, Rankin beat Whitworth in a sudden death playoff in the same event. Until the 1980s, S&H Green Stamps was a popular loyalty rewards program where customers could redeem products by saving stamps earned in a booklet.
During her career, Whitworth's mission was to provide more access to golf for people in all communities. High School Junior Natalie Yen competed in The Ascendant LPGA on a sponsor exemption as a result of winning the Kathy Whitworth Junior Invitational.
Meanwhile, golf clubs, teams, organizations, businesses, and more were able to apply for the 2023 Kathy Whitworth Ticket Program, which gained complimentary tickets to the Ascendant LPGA, marketing materials and tournament swag.

Several other honors were made this week to Whitworth's amazing legacy:
Kathy Whitworth Walk of Champions: The walk of champions on the 18-fairway cart path was renamed the "Kathy Whitworth Walk of Champions." It now features signage of past champions and Whitworth.

"Learn About her Legacy": Throughout the course and in the hospitality venues during tournament week, fans were able to get to know more about Whitworth via a special QR code that directed fans to a dedicated Kathy Whitworth page at AscendantLPGA.com.

Inside the Ropes Program: The Inside the Ropes program gave fans an opportunity to walk inside the ropes with a group for 18 holes, allowing for a unique and memorable experience. This program was important to Whitworth in continuing to help grow the game, and one group during each round was dedicated in her honor.
Back to News