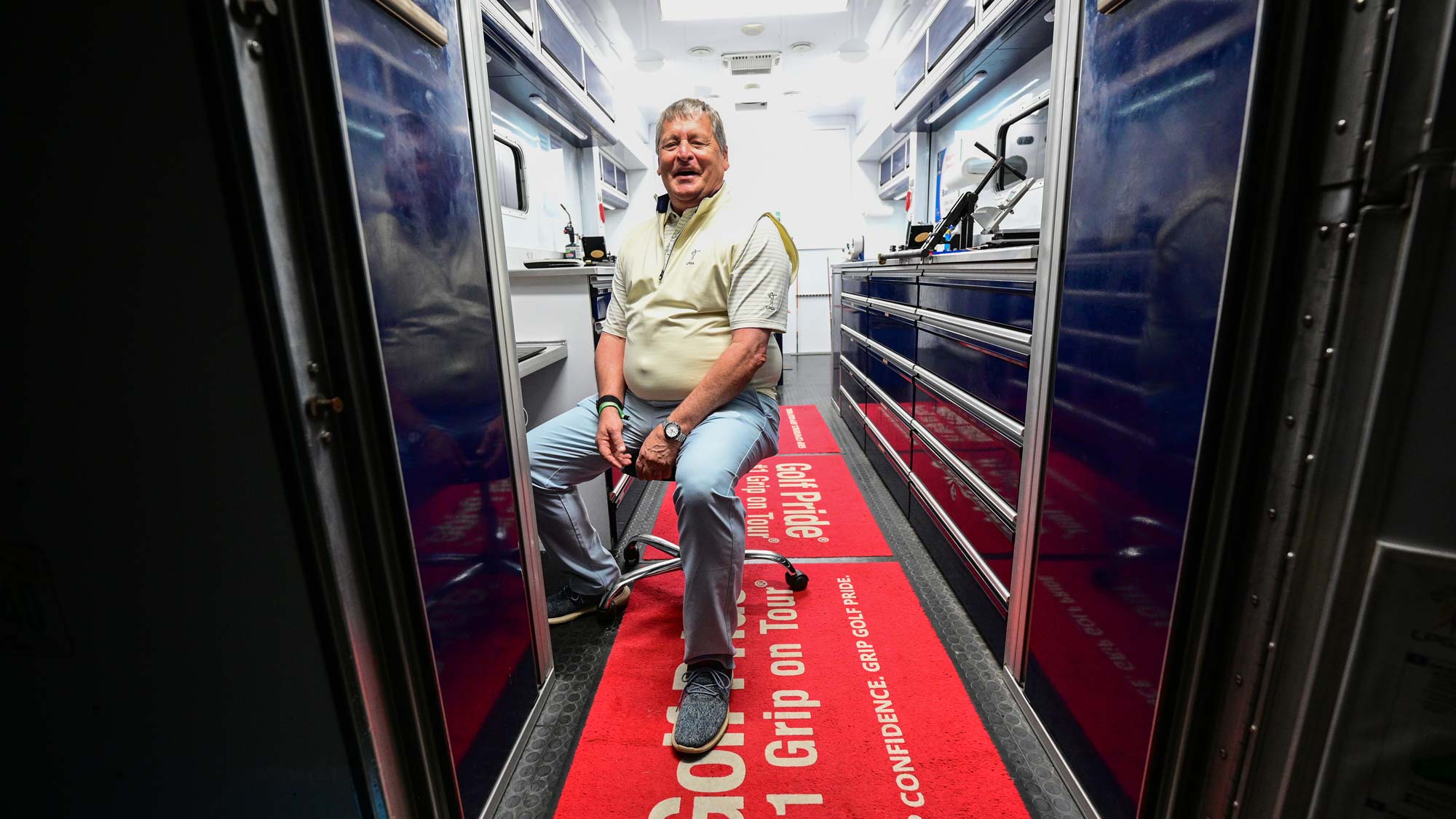 Paulie B. is Back in Business
by Michael Abramowitz
THE COLONY - Paul Boehmer a.k.a "Paulie B." and "The Candyman" is a living legend in LPGA circles. For 24 years, he served as a club fitter and quasi-psychologist for the players on Tour, before retiring on Jan. 1.
Two months later, the Plano, Texas, resident became "semi-retired" as he opened a club fitting shop at nearby Old American Golf Club. In turn, he has quickly built a steady clientele of LPGA, PGA, Korn Ferry and PGA TOUR Latinoamerica players, as well as club members.
At the helm, Boehmer basks in the freedom and autonomy he now has to set his own hours and schedule.
"It's the best of all worlds for me," said Boehmer at the 2023 Ascendant LPGA benefiting Volunteers of America.
He originally started his club fitting gig on the LPGA Tour at the age of 42, after 18 years in the oil industry. Boehmer was supposed to be a two-week replacement for an injured club fitter. He wound up working until he was 67, missing only five events along the way, due to a heart attack that he didn't realize for weeks he had, as well as the passing of his parents.
"Work isn't always the thing," Boehmer explained. "It's what they don't teach in books: How do you get in between flexes? How do you adjust for an outside-in swing when the player wants to hit a draw? These things fascinated me."
Back in the day, 40 events a year were the norm. Whether it was creating new ways to shape a club or to serve as a sounding board for a player struggling with her game, he loved the ride and the challenge.
"What I do is bending glue," said Boehmer. "The kids on Tour are the ones who have the talent. My job with their clubs is to keep them smiling. And if they need to cry, then come to me and cry."
Yet, it all started with a lie or two. He admittedly fibbed in his job interview that he knew how to club fit and grip clubs, when in fact he had never done so. He wound up reading a book by Ralph Maltby on the science and art of clubfitting.
"Had I known that much physics would be needed in my life, I wouldn't have slept through class," Boehmer quips.
He also said that he spoke Spanish. That wasn't close to the truth, either. Six months later, he knew enough to get by, thanks to immersion.
Classic fake it until you make it.
His first event was at the Jamie Farr Classic in Toledo, Ohio, starting on the 4th of July. "It was the day I lost my independence. I'd tell the players that this was a M*A*S*H* unit and not a hospital. I could stop the bleeding, but I don't know if I can save the leg."
At the 2016 Olympics in Rio de Janeiro, he became the first modern-era club technician for both the men and women athletes at the games, helping Olympians from across the world.
While on Tour, he always kept candy and a fresh pot of coffee in his shop. The kids of players on the LPGA Tour would stop by to get their share of treats from the "Candyman."
The Candyman could surely shape some clubs in the process.
Ironically, Toledo would be the setting when he decided to step down from the LPGA Tour. At the 2021 Solheim Cup, he realized it was time to give a year's notice.
"It was a fun, great career," said Boehmer. "I wouldn't change my career, people, places and things for anything."
Back to News