Get Behind the Scenes
Volunteering is an amazing way to get a behind-the-scenes look at a professional golf tournament and experience up-close-and personal the operations of this exciting event.

Each LPGA event is a massive undertaking, and the success of the Tournament depends on the commitment of a small army of volunteers. Each year, hundreds of volunteers donate their time to serve critical needs such as marshaling, scoring, transportation, hospitality services and many other important jobs.

Volunteer Program presented by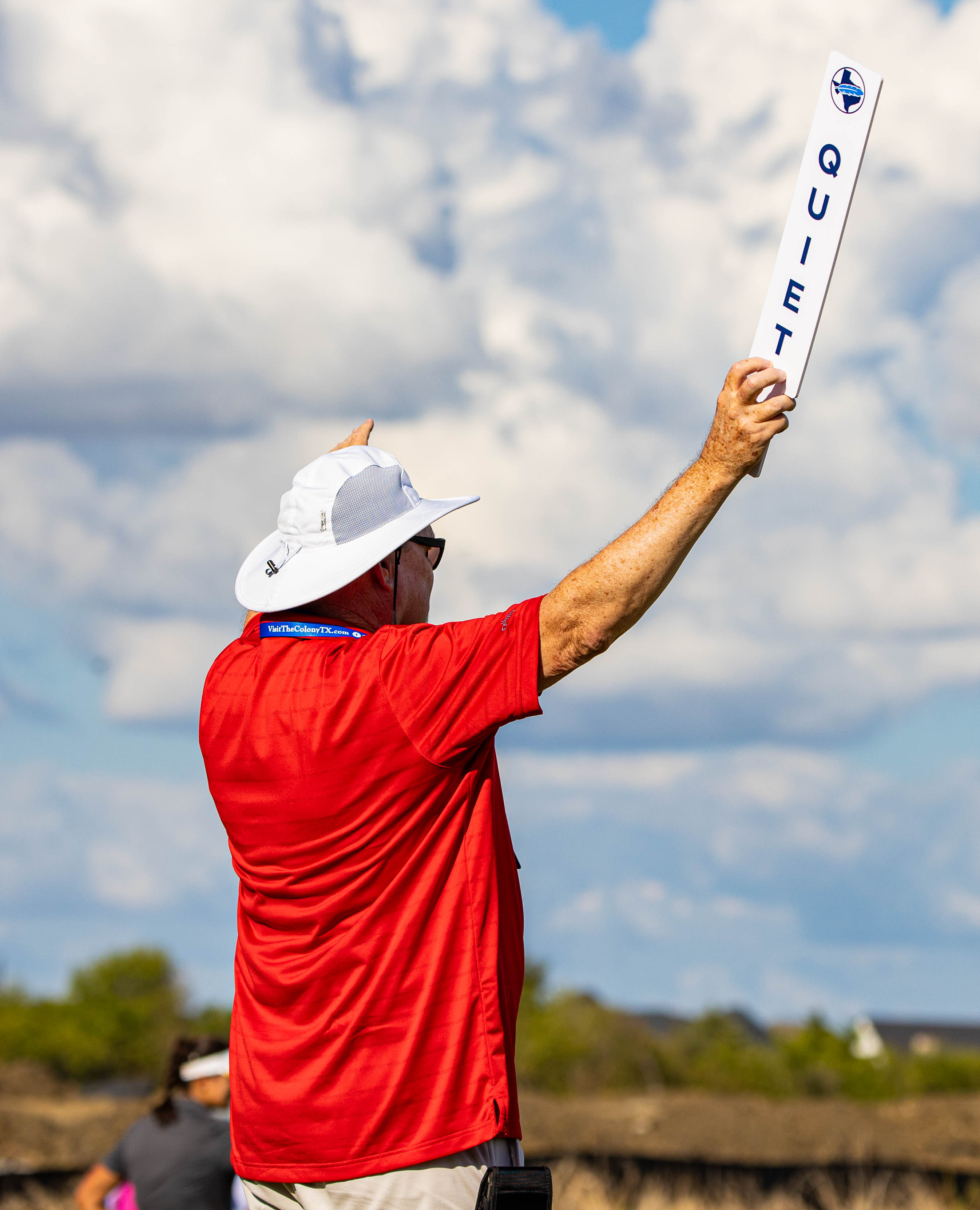 The #AscendantLPGA is a signature community event and one of two official LPGA Tour event in Texas.
The Ascendant LPGA benefiting Volunteers of America will be held at Golf Clubs at The Tribute playing Old American Golf Club in The Colony, TX October 2 - October 8, 2023.

We welcome approximately 500 volunteers to facilitate the event. Responsibilities range from marshals and hospitality to special events and assisting fans. Youth volunteer opportunities are also available.
What's included in my registration?
The volunteer package includes: Two (2) official tournament golf shirts, one (1) official tournament visor or hat, one (1) volunteer badge, valid for grounds and parking access all week, four (4) complimentary weekly grounds passes and complimentary meals during scheduled shifts. Volunteers are required to cover the cost of their uniforms for a fee of $60. Volunteers who work three (3) or more shifts will receive a voucher to play Golf Clubs at The Tribute.


Available Committees
Volunteers are encouraged to work at least three shifts in one of the following committees during Tournament Week. Committee and shift selections can be made on the Volunteer registration form at the time of registration. Volunteer shifts vary by committee, but typically last four to six hours per shift. If you have any questions regarding the specific responsibilities of a committee, please contact Annie Pho at apho@outlyr.com
Admissions/Will Call
Admissions volunteers are responsible for staffing the ticket booth and assisting security to ensure that all spectators have the proper tickets for entry; Will-Call volunteers are responsible for staffing a location for ticket buyers to pick up previously purchased tickets
Caddie Tent
Responsible for upkeep for Caddie area. Hand out yardage books, towels, etc. for Caddie use
Carts/Shuttles
Manage the Cart Area and control the charging, distribution, and collection of carts to authorized personnel. Assist with transporting professionals and volunteers throughout the course and transporting appropriate personnel from Lot B to the course and back
Driving Range
Assist in providing and maintaining a suitable driving range for all contestants. Specific duties include maintaining supplies such as range balls and player identification sign.

Hospitality
Responsible for ensuring that all patrons have proper credentials to enter the hospitality suite area and assist with locations of specific suites
Long Drive
Measures the driving distance for all players on select holes for every day of play
Marshals
Marshals ensure fair play among all participants as well as safety for spectators and are stationed at locations throughout the course. Focus is on the tees, landing areas, greens and spectator crosswalks
Marshal Lunch Delivery
Responsible for delivering boxed lunches to marshals stationed throughout the course
Media Center
Assist with the general operations of the Media Center and promotion of the Tournament
Off-Site Transportation
Responsible for transporting players, staff and VIPs to various locations (including Off-Site hotel and airport transfers) in courtesy vehicles provided by the Tournament. Valid Driver's License required. Subject to background checks. *Committee works before and after Tournament*
On Course Ambassadors
Ambassadors are stationed at the high traffic areas around the course. Ambassadors will help direct spectators to on course locations and assist with any questions
On Course Services
Replenish water, ice, and other product on course *Physically demanding
Player Registration
Responsible for signing in players as they arrive throughout the week. Required to get players to fill out necessary paperwork, pay entry fees, sign tournament memorabilia, etc. ages and player identification signs
Pro-Am
Assist with the organization and distribution of autographed framed photos for each group. You will also assist with amateur registration and gift bag assembly and distribution prior to shotguns and/or at the Pairings Party
Standard Bearers
Responsible for carrying standard (with the names and scores for each professional) on the course for an entire round. *Physically demanding; volunteers must be able to walk 18 holes of golf and carry a standard for the entire round. Basic golf knowledge is required
Television
Works closely with the Golf Channel to broadcast the event. Roles include microphone operators, laser operators, etc. *Physically demanding. Must be able to lift and carry equipment and walk 18 holes
Volunteer Services
Responsible for staffing the volunteer headquarters, handling uniform distribution and maintain a comfortable working environment for the volunteers *Committee works before tournament week
Walking Scorers
Each scorer follows a particular group, marking each stroke and specific statistics. At the end of each hole, these volunteers are responsible for communicating scores to the green's reporters. Substantial golf knowledge is necessary. Must be able to walk 18 holes
FAQ's
What does it cost to volunteer?
This year, the fee is $40 for returning volunteers and $60 for new volunteers.
What does the Volunteer Package include?
Two (2) official tournament golf shirts
One (1) official tournament visor or hat
One (1) volunteer badge, valid for grounds and parking access all week
Four (4) complimentary weekly grounds pass
Complimentary meals during scheduled shifts
How many days do I have to volunteer and how many hours?
Volunteers are encouraged to work at least 3 shifts over the course of Tournament Week. Shifts typically last between 4-6 hours. Days and times may vary depending on the specific committee responsibilities.
Can my children volunteer? What is the age requirement?
Yes, children 13+ can volunteer by themselves on any of our youth committee options. Anyone under the age of 13 must be accompanied by an adult. If you have a children's group of any kind who would be interested in volunteering together, please reach out to Annie Pho at apho@outlyr.com